Product – CafePeople

CAFEPEOPLE – A NEW IDEA FOR CAFE SOCIALIZING
So why did we build it?
The inspiration for the CafePeople site came from an observation or two:
1) There are some truly interesting folks who visit great cafes. We all know that's true.
2) Almost everyone in a cafe is connected to the net, but until now there's been no way for them to connect to themselves. That's curious.
Within the coffee house space, there are some very interesting people who sit and sip on their lattes. Cafes drawn in a rich variety of people who can impact your life through the wonderful occurrence of serendipity – turning strangers into friends. There are amazing possibilities for for life, love, work and play. Sounds good doesn't it?
But how could you possibly reach out and meet them? It would help if you were to know what their career/interests/passion is, but it would go a lot further if there was a simple, non-obtrusive means to say "hello" to some of those interesting folks. Let's face it, you are not the only one curious about the guy/girl on the corner table. In the same way, he/she is probably wondering what you are about too. Go explore.
That seemed like a good enough reason to build a product that would let people connect up in their local Starbucks, hence, CafePeople was born.
Check it out here: CafePeople
Some screenshots: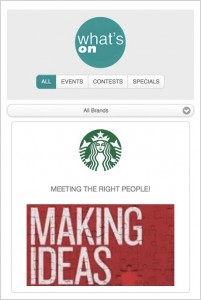 What's On
What's On – this is a novel way for you to search events to see what's on within a cafe and who is attending. With a wide range of special interest groups, there's no excuse for getting bored. Get out there and meet interesting new people who share a common interest.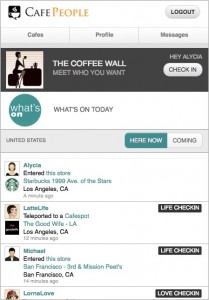 Coffee Wall
Coffee Wall – see at a glance who has popped into a Cafespot (virtual equivalent to the real world cafe) and what they are about. Just like sitting on the cafe sidewalk and watching the world go by. Truly entertaining!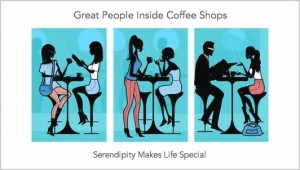 The Vibe!