Product – AirFrenz
AIRFRENZ – SOCIALIZING IN THE AIR
Ever wondered who is on the flight with you? Pre-checkin too. Figure out who you should know, and who should know you! All things are possible. And like all social products from Electric Angels, the key to turning strangers into friends is to do it for one of the four main reasons: Life, Love, Work or Play. They're all valid!
So, if you are going to sit in a tube flying through the sky at 1000km/hour, then at least speed up the process of making new friends. A perfect means of networking in the clouds.
COMING SOON…
Some Teasers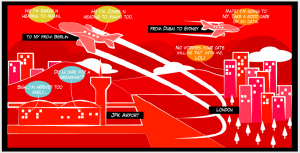 Want to stay updated on when AirFrenz will ship? Just fill out this form.